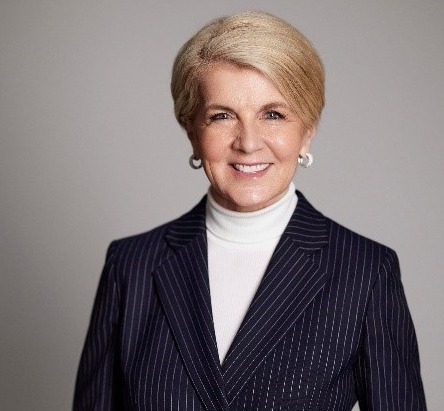 The Hon. Julie Bishop
Former Minister for Foreign Affairs and the Chancellor of Australian National University
Australia
The Hon Julie Bishop is the Chancellor of Australian National University, appointed in 2020.
Ms. Bishop served as Australia's Minister for Foreign Affairs from 2013 until 2018. She was the first female to hold the role as well as the first female Deputy Leader of the Liberal Party, serving for 11 years. She was the longest serving Member for Curtin in the House of Representatives, elected in 1998 until 2019.
As Foreign Minister, Ms. Bishop was responsible for strengthening Australia's key strategic and economic relationships with Ministerial responsibility for more than 5,000 departmental staff, 110 overseas missions, and several government agencies, including the Australian Secret Intelligence Service and the Australian Centre for International Agriculture Research.
She led the single largest expansion of Australia's overseas diplomatic presence in 40 years, increasing to 110 diplomatic missions. Ms. Bishop developed the 2017 Foreign Policy White Paper, providing a comprehensive policy framework for the next decade, and established the New Colombo Plan, enabling Australian undergraduates to live, study and work in the Indo-Pacific region. Within five years, more than 40,000 students have participated in the Plan.
She previously served as a Cabinet Minister in the Howard Government as Minister for Education, Science and Training and as the Minister Assisting the Prime Minister for Wom