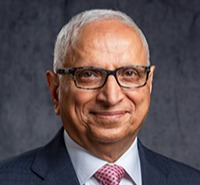 Ajit Manocha
President & CEO
SEMI
Ajit Manocha is president and CEO of SEMI, the global industry association serving the electronics manufacturing and design supply chain. Throughout his career, Manocha has been a champion of industry collaboration as a critical means of advancing technology for societal and economic prosperity.
Manocha was formerly CEO at GlobalFoundries. Prior to this he held the role of executive vice president of worldwide operations at Spansion and earlier served as EVP and chief manufacturing officer at Philips/NXP Semiconductors. He began his career as a research scientist at AT&T Bell Laboratories where he was granted more than a dozen patents related to semiconductor manufacturing processes.
Manocha has served on the U.S. President's committee for "Advanced Manufacturing Partnerships" and the President's Council of Advisors on Science & Technology (PCAST). More recently, VLSIresearch added Manocha to its Semiconductor Industry Hall of Fame, and he was inducted into the Silicon Valley Engineering Hall of Fame.