Press Releases
2023 Yushan Forum: Asian Dialogue for Innovation and Progress "Start a New Blueprint for Asian Development" President Tsai: Taiwan is part of the solution
PUBLISHED OCTOBER 11, 2023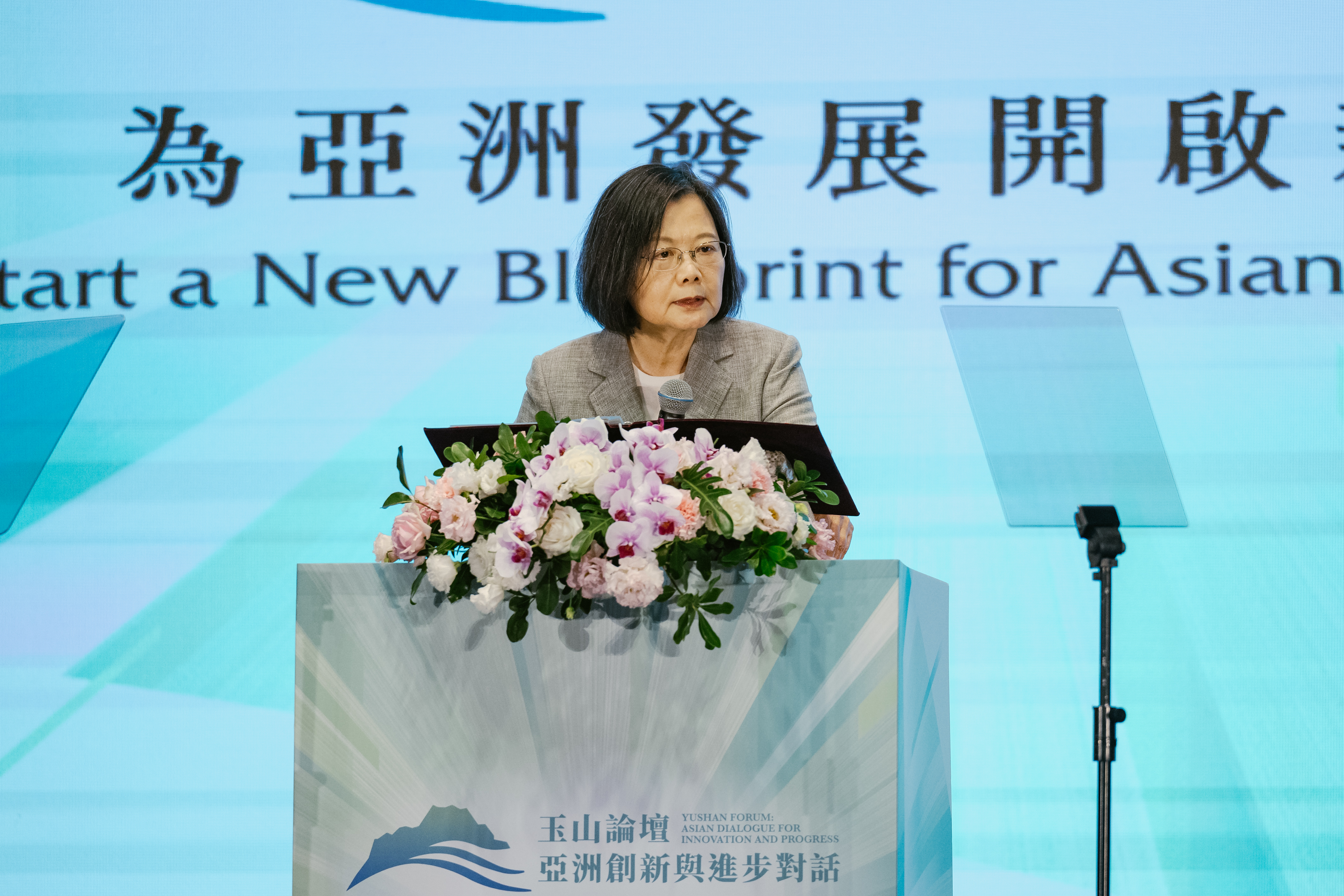 The seventh annual Yushan Forum, organized by the Taiwan Asia Exchange Foundation (TAEF) and supported by Ministry of Foreign Affairs, kicked off on October 11th at Grand Mayfull Hotel Taipei.
This year's Yushan Forum was held in the context of the reopening of international borders after the Covid-19, and focused on "a New Blueprint for Asian Development". The forum this year not only bore the symbolic meaning of "starting anew" after the pandemic, but also served as an important review of President Tsai Ing-wen's New Southbound Policy, which has been implemented for seven years so far.
The New Southbound Policy has been actively promoted by President Tsai as one of her core diplomatic policies, and has attracted the zest participation of New Southbound partner countries from Southeast Asia, South Asia, New Zealand and Australia. This year's Yushan Forum not only did the experts from various fields discuss the future vision and blueprint for Asia's development, but also reviewed the achievements of the New Southbound Policy over the past 7 years and its outlook for the future.
The Opening Ceremony began with a remark delivered by Mr. Hsin-Huang Michael Hsiao, Chairman of TAEF. As the Yushan Forum came back for the 7th edition, Mr. Hsiao sincerely thanked distinguished guests from home and abroad for flying into Taiwan to attend the Yushan Forum every year, especially during the pandemic. Over the last 7 years, the Yushan Forum has welcomed over 3,000 global participants, 231 speakers, experts and civil society leaders from 26 countries. This year also marks the year milestone of the New Southbound Policy, the NSP has created better opportunities for businesses based in South Asia and Southeast Asia, deepened people-to-people connectivity and engaged civil societies. These have been the driving force for the NSP, and is "a result of the synergy of cross-sectoral efforts, which the TAEF has long been advocated for," said Mr. Hsiao. This year's Yushan Forum anchors with the theme "Start a New Blueprint For Asia Development". Corresponding to the core concept of "warm power" proposed by Taiwan, the NSP shares resources and experience with partnering countries, and emerges as evidence of these endeavors. Along with other year-round engagement efforts, TAEF will continue to fulfill its mission to foster people-to-people connectivity through the New Southbound Policy.
Her Excellency President Tsai Ing-wen's welcoming remarks followed. The NSP was introduced when President Tsai took office in 2016. It aims to engage policy partners across a wide range of fields, advancing and bouldering the relations and outlook among partners in the Indo-Pacific. The Yushan Forum serves as the platform for regional dialogue. As the WHO announced the end of the emergency status, this year's Yushan Forum hopes to initiate conversations on preparing for the new chapters coming ahead. In the words of President Tsai, the ties between Taiwan and NSP countries are "stronger than ever". The total trade volume of Taiwan with the NSP region has reached 180 billion USD, 88% up from 2016, reaching a record high. Taiwanese businesses also invested more than 100 billion dollars in NSP countries, creating millions of jobs. The NSP is at the core of Taiwan's Indo-Pacific strategy. She reinforced that maintaining the peace and prosperity of the Indo-Pacific and across the Taiwan Strait is crucial. "Taiwan will continue to be a responsible actor and a force for good," she said. In face of mounting threats in totalitarianism, climate change, as well as global restructuring of supply chains, Taiwan is a secure and reliable partner. In these increasingly testing times, Taiwan will continue to contribute to peace and stability in the Indo-Pacific. As described by President Tsai, "Taiwan can be part of the solution".
President Ross Joseph Kun of the Republic of Nauru commented that the focus of this year's Yushan Forum, "Start a New Blueprint for Asian Development", comes in timely as it is a good timing to address transformative changes that are within our reach in the post-pandemic era. He said, "Taiwan has been a steadfast friend and partner of Nauru." This friendship is one of mutual assistance, with Nauru offering unwavering support to Taiwan for its cause to promote peace and stability in the Indo-Pacific region in the United Nations General Assembly. In closing, he hopes that the forum can be an agency that allows visions to be turned into tangible realities. He also led a delegation to the Forum, a sign of the strong bonding between Taiwan and Nauru.
Former Australian Prime Minister Scott Morrison mentioned that Taiwan's future is relatedly centric to peace and security but that future is now under threat. Therefore, building credible resilience within Taiwan is important. He then emphasized that it is even more important to protect the "status quo", which is to "prevent conflicts and ensure the stakes of the autonomy of Taiwan, and to promote peace, stability and prosperity in the Indo-Pacific. Preserving this status quo has always been in the hearts of Australian policies, those during his term of service, those that came before, and those that will come after.
This year's Yushan Forum also welcomed Ms. Kelly Craft, Former U.S. Representative to the United Nations. As someone who has to confront enemies of freedom everyday in the U.N., Kelly shares a special connection with Taiwan. She has been trying to raise the profile of the relationship of the US with Taipei in the UN. As Taiwan's integrity is under threat for some time, Kelly believes that it is the duty for those who concern about Taiwan to show support and reassurance. "I am here to assure you my belief in the firm US commitment to Taiwan's defense," she said. "It is not time for complacency."
Matt Murray, United States Senior Official for the Asia-Pacific Economic Cooperation (APEC), Department of State, USA, expressed that APEC and the US matter to one another. Having working on APEC affairs for more than two decades, Matt Murray sees US-APEC strong economic relations as one that works two-way, driving prosperity for both parties. APEC economies' investments in the US has reached 1.7 trillion US dollars in 2021, and 1.5 trillion US dollars from American businesses to APEC markets. APEC economies also dominate America's top 10 trade partners, including Taiwan. He said that APEC is the platform to advance economic development and free, fair, open trade and investment, as well as building collective capacity for challenges. He also appreciates the opportunity to work with Taiwanese counterparts in APEC. He agrees with the view that Taiwan is "a part of the solution", outside and inside of APEC, as the island is vital to the liberal picture of the world.
The last opening remark was delivered by Mr. Furuya Keiji, Chairman of Japan-ROC Diet Members' Consultative Council and a member from the House of Representative in Japan. Celebrating its 50th Anniversary, the Japan-ROC Diet Members' Consultative Council serves as a link between Japan and Taiwan, fostering collaboration and exchanges with Taiwanese counterparts. For instance, schools in Japan engage in frequent exchanges with Taiwan, an evidence that the friendly ties between Japan and Taiwan is being carried over to the next generation. Mr. Furuya reinforced that "A Taiwan contingency is a Japanese contingency," as late former prime minister Shinzo Abe said. Japan's target is to achieve a free and open Indo-Pacific, regardless of any threats and interventions. If Taiwan's freedom is undermined, the international community will also be subject to losses and threats. Therefore, the Japan-ROC Diet Members' Consultative Council will continue to work on the friendly connections between Taiwan and Japan.
Since 2017, Yushan Forum has been successfully held for 7 years. Each year's theme is deeply concerned with the situation and development challenges in Asia and the Indo-Pacific region. TAEF invited leaders, political dignitaries, and professional experts from Asia and the international community to engage in diverse dialogues and in-depth exchanges, with the aim of facilitating Taiwan's NSP and "people-centered" multi-dimensional cooperation among partner countries. The Forum has also become an important platform for dialogue between the Taiwan government and civil society on the NSP and regional cooperation. We look forward to this year's Yushan Forum not only witnessing Taiwan's role as an irreplaceable member of the Indo-Pacific region, but also hoping to deepen cooperation with neighboring partners in the course of Asia's development in the post-pandemic era. Let us create a blueprint for the future that will be beneficial to the country, the region, and the people.